There's no denying that Facebook fundraising is here to stay— after all, the platform has raised $2 billion and counting as of 2019 and some nonprofits have raised millions through this fundraising channel alone.
However, some nonprofits go astray with their social fundraising strategy by getting caught up in the metrics— page followers, post engagement, and even revenue raised. While these metrics are important, they shouldn't be your main focus with social fundraising. As with any other type of fundraising, the most important aspect is the humans behind the computers, smartphones, or iPads. The relationships you grow with social supporters are what will fuel your nonprofit's mission.
At GoodUnited, we provide the people, technology, and processes necessary to help nonprofit organizations raise their relationships with supporters on Facebook. Through that work, we've discovered four tips essential to successful Facebook fundraisers. With the following tips, you'll be able to successfully raise funds during COVID-19, grow your relationships with social supporters, and be well-positioned for the future of social fundraising:
Thank every user that creates a Facebook fundraiser.

Create digital communities for Facebook supporters.

Inspire peer-to-peer participants with unique experiences.

Prioritize one-on-one communications with individual supporters.
While some of these tips may be larger asks for your team to implement, others you can get started on today. So, let's dive in!
Thank every user that creates a Facebook fundraiser.
Through our work with nonprofits and social fundraising, we've found that up to 90% of the users we encounter (those starting fundraisers on behalf of a nonprofit) are actually new supporters of the mission. Can you imagine if you discovered a new nonprofit organization, started a fundraiser on their behalf, asked your friends and family members to donate, and then never received a thank-you note from the organization itself?
This isn't a great way to start a relationship, but unfortunately, it's more common than you might think. Facebook doesn't notify you when a user starts a fundraiser until they've raised $50, and if a user never reaches that goal, they could fly by unnoticed.
Combat this using Facebook's Sort & Filter tool. Navigate to your nonprofit's Facebook page and view the "Fundraisers" tab— this is where you'll see every Facebook fundraiser created on behalf of your nonprofit. Default settings will organize these fundraisers to first show those that have raised $50+ in donations and are closest to their deadline.
You'll want to focus on the most recently created fundraisers to provide a timely thank-you. To find these campaigns, use the Sort & Filter tool to sort the fundraisers to show the most recently created first, and filter out those that you've already thanked. 
From there, you'll want to post a thank-you note directly on the campaign wall of these active Facebook fundraisers. For example:
"Thank you so much for hosting a Facebook fundraiser on behalf of [Name of Nonprofit]! Your efforts fund work such as [Work of Nonprofit]. We can't express how valuable your contributions are! We'd love to keep in touch and continue engaging with you through [Additional Engagement Opportunities]."
This thank-you note should be personal and actionable, reflecting the unique impact of the user and the next steps they can take both in-channel and externally to continue supporting your organization. For inspiration, check out the donor thank-you letter templates on Fundraising Letters— many of these can be adapted to thank your Facebook fundraiser supporters as well.
Create digital communities for Facebook supporters.
In recent years, Facebook has been favoring groups in its algorithm. This means that if you create two posts— identical in content but one posted within a group of your members and one posted on your main Facebook page— your supporters are more likely to see the post made in the group.
By simply using groups in your nonprofit's social strategy, you'll optimize your strategy for increased visibility. But remember, the real strength in social fundraising is the relationships you can build with supporters. In line with that, use groups to establish online communities for your social supporters.
According to this guide on virtual peer-to-peer fundraising, groups are especially valuable in the context of hosting online events. Consider the following example: You're hosting a virtual peer-to-peer fundraiser in which participants pledge to run 100 miles throughout the year, all while raising P2P funds. You create a Facebook group and invite all participants to join. Within the group you can:
Live stream a runner's workout through Facebook Live, motivating participants to reach their goals.

Invite participants to connect with other runners, share training regimes, problem-solve challenges, and otherwise encourage one another.

Maintain momentum for your year-long fundraiser with regular check-ins, challenges, updates, and conversation-starters.
Facebook groups forge a stronger connection between your nonprofit's social supporters and your organization, helping them to see the larger movement fueling your mission. And, they're not only applicable to P2P fundraising— you can create a group for volunteers, users who create Facebook fundraisers, advocates, ambassadors, and more.
Bonus Tip! Assign a team member to monitor any Facebook groups created. This way, you can supplement the conversation when things grow stale and ensure that all posts align with your nonprofit's brand and messaging.
Inspire peer-to-peer participants with unique experiences.
Because Facebook is largely a peer-to-peer fundraising platform, we can use insights about P2P to optimize your efforts on the platform. Following the Peer-to-Peer Forum 2021 in early March, we now have data regarding what worked, and what didn't with P2P fundraising in 2020. This information can help guide your efforts with Facebook-based virtual events going forward in the "new normal" of P2P fundraising.
The following trends were evident in P2P fundraising in 2020:
Experimenting with new and unique

fundraising events

(such as video game tournaments) was a successful strategy.

There were fewer participants in campaigns, but these participants were more engaged than in previous years.
We know that when transitioning in-person events to the virtual sphere, it's crucial to consider what interests your audience and what will engage them in the virtual format. So, considering these P2P fundraising trends, here are a few ways that you can optimize your fundraising efforts on Facebook in the realm of events:
Think outside of the box when it comes to event types.

While 5k runs, walk-a-thons, and bike-a-thons can all transition to virtual successfully, consider getting extra creative with your events this year. A video gaming competition, book club, or even a multi-week virtual trivia challenge may be more engaging for a crowd that's used to the familiar event types.

Provide additional ways to give back.

While there were fewer P2P event participants in 2020, they were more engaged than ever. Consider offering new ways for participants to fundraise alongside the main fundraising event so supporters can put that increased engagement to action. For instance, try ideas such as offering one-off Facebook challenges and quick live streams that include calls to donate. And of course, Facebook groups are another great way to provide additional opportunities to engage.

Acquire new supporters using Facebook ads.

Create targeted Facebook ads that focus on your audience of fundraisers on the platform— for example, those who have hosted birthday fundraisers in the past. Invite those users to join your Facebook-based P2P fundraiser and connect with other participants via groups on the platform. This can help bring in a larger audience, combatting the decreased turnout that was evident in 2020.
We've briefly discussed how you can engage with users on Facebook through gratitude, groups, and inspiring P2P experiences. Now, let's wrap up with one final revolutionary way to optimize your Facebook fundraising strategy— one-on-one conversational messaging.
Prioritize one-on-one communications with individual supporters.
Through Facebook Messenger, you can communicate with individual supporters just as you would with friends or colleagues on the platform— in a back-and-forth, instant messaging sequence. Social media gives you the tools to connect each supporter personally, but few nonprofits actually use these tools in their social fundraising strategies.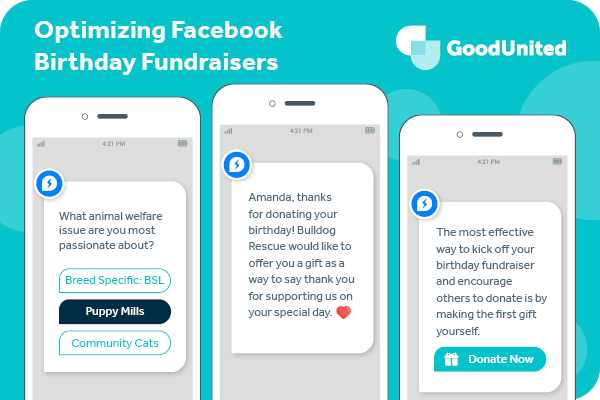 In the image above, pulled from the GoodUnited guide to Facebook birthday fundraisers, you can see a few applications of this— such as asking supporters one-off questions to learn more about why they're engaging with your nonprofit, thanking them for their support, and providing tips that users can use to reach their social fundraising goals.
With conversational messaging, you can:
Learn more about your social supporters by asking one-off questions and

sharing links to surveys

on your website.

Help social supporters overcome fundraising challenges with tips and suggestions to raise more.

Share additional opportunities to engage, such as upcoming P2P events that you're hosting through the platform or even a reminder to start a birthday fundraiser leading up to their big day.
With Facebook Messenger, you can build relationships with supporters one-on-one and stay in contact year-round. Rather than an anonymous supporter hosting a fundraiser on your behalf and resulting in little more than additional revenue, you can grow an impactful relationship and retain the user for years to come.
To begin connecting with supporters through Facebook Messenger, you simply need to invite those users to engage with your organization through the channel. This can be done through a post in a Facebook group or even with your initial thank-you message, drawing back to the first section of this guide.
Wrapping up, we recognize that some of these tips— namely managing digital communities of Facebook supporters and connecting with each individual through Messenger— can be quite the administrative task for even the most efficient nonprofit teams. 
Our recommendation is to implement the tips that your team can execute efficiently, such as updating your website with information about Facebook fundraising. Then, partner with a social fundraising solutions provider to elevate your programming further.
This team will provide the people, tech, and processes needed to elevate your Facebook fundraising relationships at scale, transforming your strategy for long-term engagement and growth. Good luck!
Guest Author:  Mark Cross – Sales Director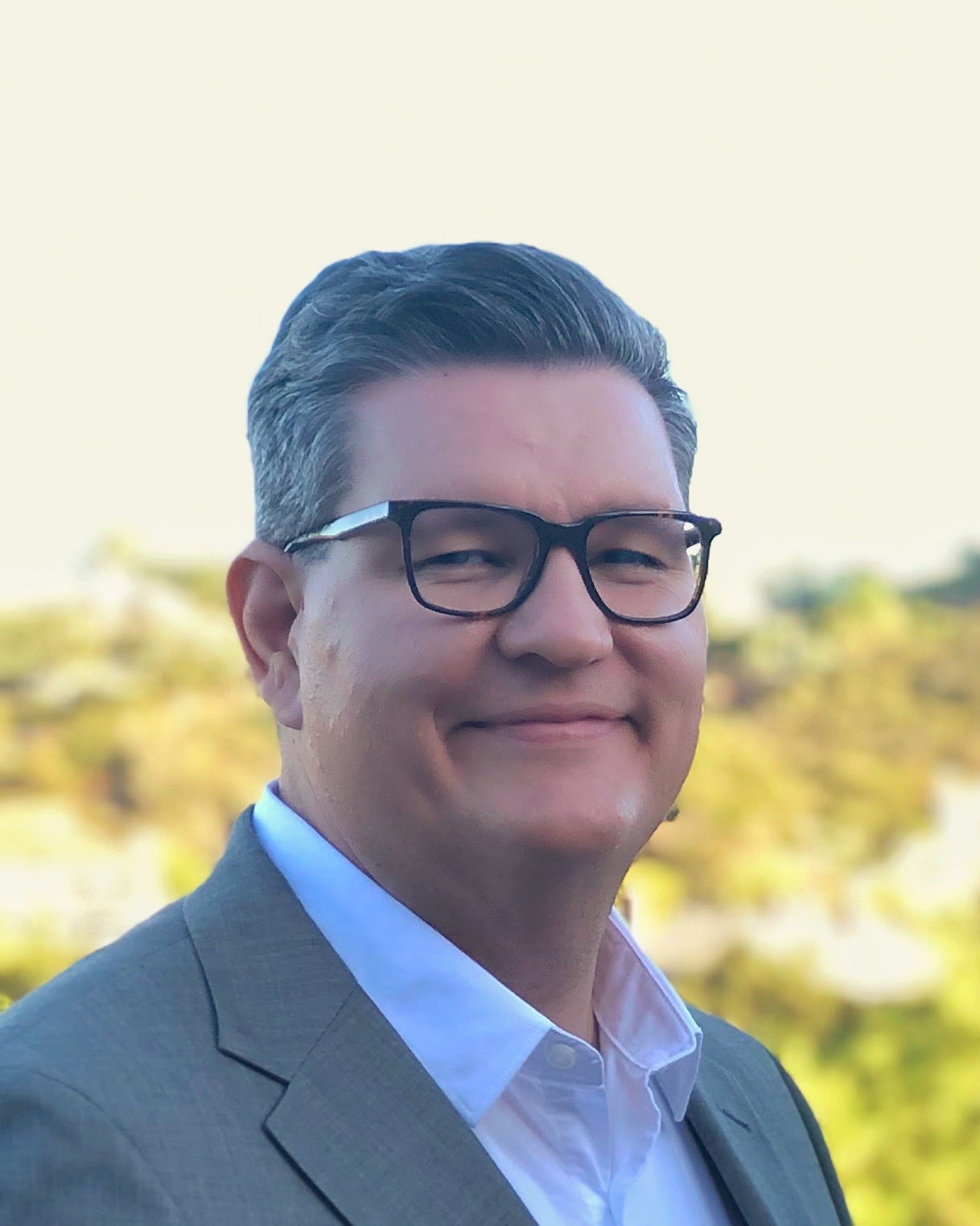 Mark is the Sales Director at Charleston, SC startup GoodUnited with a mission to help nonprofits make every supporter feel appreciated. As Sales Director, Mark has helped onboard organizations like American Cancer Society and the National Suicide Prevention Lifeline so that they can recognize every Facebook fundraiser and use 1:1 conversational messaging to create lifelong supporters.  
In 2015, after drifting aimlessly through life, Mark found his calling in working with nonprofits to help feed the hungry, save animals, reduce gun violence, cure cancer, prevent suicide & self-harm and other amazing causes.  Mark joined the GoodUnited team in 2019 and has been an integral part of an effort that has helped 45 nonprofits thank over 1 million fundraisers that have raised over $500 million on Facebook.
Mark's wife Courtney, and their daughters Dottie (4) and JoJo (2) have given him the motivation to get up every day ready to change the world.
Development Consulting Solutions has a team of experts who can meet your needs through serving as your grant reviewer, grants researcher, proposal template developer, and ongoing grant writer. 
Check out our list of grant writing services here.
Contact us today to discuss your grant writing needs.
Get Your Ultimate Calendar Year-End Checklist Needed For Your Next Appeal…
Savvy nonprofit professionals know that as the end of the year winds down, donations go up — way up.
Raising spirits while lowering taxes, year-end giving inspires donors to give to your campaign — more than a quarter of nonprofits raise close to half their annual funds in year-end campaigns, a little over 10 percent of that occurring in just the last three days of the year.
With our Ultimate Year-End Fundraising Checklist, you'll be well on your way to a Happy New Year with a boost in your bottom-line worth breaking out the bubbly for.
Click here to get your Ultimate Calendar Year-End Checklist!
For a free, 30-minute consultation, or to learn more about our "Survive and Thrive" professional coaching services, visit us here at www.developmentconsultingsolutions.com/coaching or book your fundraising coaching session at http://calendly.com/developmentconsultingsolutions/30min.
Join my new nonprofit community who are surviving and thriving! Click HERE to join my private Facebook group: Nonprofit Survive and Thrive Mastermind and receive support and inspiration to drive your results.