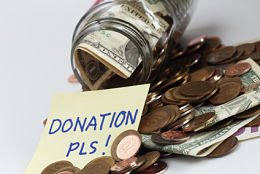 This week a prospective client asked me what is an endowment fund and can I get grants to fund it?
That question stopped me dead in my tracks.
When was the last time an organization had thought about an endowment fund. Really an organization needs to have a strong foundation in place  first. Most organizations these days have had severe budget cuts and at the same time have faced the impact of a very bad economy.  Most are more worried about how their donations are coming in next week never mind for perpetuity.
So, I sat back and asked myself a few questions.
What is an endowment campaign?
What type of organization could mount a successful endowment campaign?
Who would support such an effort?
And, if I had to organize one, what would be the best way of doing so?
Tough questions not often faced these days.
Well an endowment campaign is one in which an organization raises money to invest and not to spend. The aim is to have enough of a corpus of investment that the endowment spins off a income to the organization to support its annual operating needs. In most cases, the money placed into a fund is restricted for this purpose with most organization's making it very, very hard to spend the endowment. Complex and very future thinking indeed.
That lead me to ponder the next question.
What type of organization could mount a campaign to this extent?
Well for starters, it needs to be an organization with a great deal of stability financially for donors to feel comfortable making a contribution which will yield income in perpetuity. An organization needs to be really well-established and have a strong history with an even stronger vision for the future.
And, it needs to be financially secure right now. Nothing could be worse than trying to mount an endowment campaign when the organization is borrowing to meet payroll each week. Let's not mention the fact that an organization needs to have a strong annual fund with volunteers and a very established and proven donor base.
Well that made me think next, who will support such efforts?
In most cases an organization's annual fund relies upon a larger number of smaller gifts. The exact reverse is true of an endowment campaign. In fact, in many senses it resembles the traditional campaign, just even larger. In an endowment campaign, you can expect that a third of the donations or more will come from 10 to 15 donors, the second third or more will come from an additional 75 to 100 donors, and the remainder in small gifts. This is a larger close supporter type of campaign have no doubt about it. We are looking at those with at least $50,000 or more in giving capacity and that means a lot of prospects. Will they give that, probably not, but, you get a sense of the scale now don't you?
That brings us all back to the question of how do you do this endowment thing?
Well, the way I see it, you can follow the traditional capital campaign model to some great success. One thing that is very sure is that like a capital campaign it needs to be well-organized and planned and needs great organization. This is a very labor-intensive type of campaign to mount and should only be undertaken by organizations with a strong annual fund in place and preferably with those that have had some capital campaign experience under their belt.
I head back to answer the question about grants and foundations supporting an annual fund.
While grants can be a part of this function, it is not very likely that it will be a complete success without the support of your very top donors who are willing to give you money for the long haul in perpetuity. Critical to this effort is having a strong mission, vision, and very strong plan for your future!
Now the question I ask you, is your organization ready for this type of campaign?