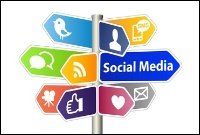 Hmmm…"where do I even begin" is something I am sure that you have asked yourself many times as you contemplate dabbling in social media.
Well it is my hopes that this feature will get you started out on the right foot.
Here are the places that you at least need to start thinking about:
Stake out your spot on Facebook.
Get a brand on YouTube.
Don't be square, check in at foursquare.
Don't forget you need to "tweet" at Twitter.
Don't be shy, post your photos on Flickr.
And, don't forget to repin my content (of course) on Pinterest.
Staking your spot before its gone, branding yourself consistently across platforms, and not only beginning to communicate, but, engaging others as well, are some of the things that you need to be initially thinking about.
What I have learned first and foremost is that social media is not a "push" form of messaging that you just market yourself as if you are a one-way street; it is all about engagement and dialogue with others. Even as nonprofits, we must remember that it is not all about "us." We need to remember what Dale Carnegie said about making friends…you need to be one to have one.
In order to be successful in social media, listen more and talk less…hey, now wait a minute, isn't that what fundraising really is?