Starting a crowdfunding campaign is an easy, effective way to quickly raise funds for a specific project, but many nonprofits see a disconnect when attempting to keep crowdfunding donors engaged with their mission over the long term. 
Converting crowdfunders and other first-time donors into long-term supporters allows you to capitalize on the low acquisition costs of these donors, while increasing their lifetime value as they continue to give over the years. 
Bloomerang's donor retention guide highlights the concept of "the golden rule of donations" when thinking about donor retention—this rule states that if you can acquire a second donation, or "golden donation," from supporters, your retention rates will increase rapidly because repeat donation rates are much higher than first-time donor rates. 

To secure that "golden donation" from crowdfunding donors, you must take a unique approach to the donor engagement process. Why? Crowdfunding donors are themselves very unique! Because your crowdfunding campaign likely centers around a project and not your organization specifically, you will need to communicate why ongoing support to your nonprofit is necessary after the completion of the project. 
That being said, we've compiled five tips to create a seamless transition from turning crowdfunders into lifetime donors: 
Optimize Your Crowdfunding Campaign Page

Use Your Donor Database to Track Metrics 

Follow Up with a Compelling Story

Provide a Variety of Ways to Get Involved

Express Gratitude and Provide Frequent Updates
By following these tips, your organization can foster a community of loyal supporters who continue to give year after year, allowing your nonprofit to flourish. Let's dive in. 
Tip #1: Optimize Your Crowdfunding Campaign Page
The first step to engaging your crowdfunding supporters for the long haul is to make a good first impression. This means you'll need to create a compelling and informative campaign page that provides your audience ample opportunities for further engagement with your organization. 
To create a well-designed crowdfunding page, you'll need to: 
Be clear and descriptive about your campaign.

Describe your fundraising needs succinctly and explain in detail how the funds will be used. Then, double-check your writing for spelling and grammar mistakes. Having a professional-looking page will ensure you don't turn off any potential donors because they can't understand what you're asking for or where the funds will go. 

Use a compelling story or hook.

Tell your story comprehensively, placing your constituent as the protagonist of the story. Make it clear that your organization is raising money to help

them

succeed. This creates a more compelling message than simply placing your donor at the center of the story.

Ensure your crowdfunding page is mobile-friendly.

A lot of people will encounter your page via smartphone, most likely when scrolling through their social media feeds. Make sure your giving page is optimized for mobile devices so it's easy for smartphone users to contribute.
These steps will help increase your odds of retaining crowdfunding supporters from the get-go because it creates a positive experience with your organization right off the bat. 
However, even the most optimized crowdfunding pages tend to be myopic, focusing only on the short-term project that you are seeking funding for. If you holistically tie the campaign to your long-term mission, without reducing the urgency of the current need, you have a much better chance of garnering a second gift from crowdfunding donors.
Provide additional engagement opportunities on the confirmation page for your crowdfunding page. Enable your supporters to share the campaign on social media or encourage them to download your latest newsletter. This drives deeper engagement and support from your supporters and allows them the opportunity to better understand your mission as a whole. 
Tip #2: Use Your Donor Database to Track Metrics 
When creating your donor retention strategy, maintaining accurate data will be your greatest asset for transforming your crowdfunders into lifetime donors. By storing the data from your crowdfunding campaigns in your nonprofit donor database, you can easily segment these donors and personalize communications with them, helping you avoid generic communications.
Leverage the features already available in your CRM as well as assets you have on hand to save the donor metrics from your crowdfunding campaign and to learn more about your newest donors. These aspects will all build on each other and you'll be able to create a long-term strategy to engage supporters in the future. Some of these important assets that you'll need to leverage include the following: 
Donor segmentation tools

, like custom fields and robust reporting, to be able to create different groups of donors based on shared characteristics.

Donor surveys

that help get to know your supporters, why they gave, and how they feel about your organization.

Fundraising trackers

to analyze the success of each of your organization's fundraising campaigns to see what aspects of those campaigns attract your supporters. 

Integrated email marketing

to see the entire history of your communications efforts all in one place.
Having a clear picture of who your crowdfunding donors are will allow you to effectively communicate to them after the campaign ends. Information on their wealth, age range, profession, location, and what compelled them to give will be invaluable in reaching out to supporters again with data-driven marketing strategies. 
For example, you might find that a lot of your crowdfunding campaign donors were in the 18-25 age bracket. With this information, when you reconnect with these donors, you may invite them to a hands-on, socially-focused volunteer opportunity like a river clean-up or building a new structure like a shed. 
Or, through additional prospect research, you may find that one crowdfunding donor has given large sums of money to other organizations like yours, despite only giving you a small amount in their initial donation. This person may be worth setting up a one-on-one meeting with to encourage them to continue giving in greater amounts and bring them to the level of a major donor. 
Conversely, you may find that some of your crowdfunding campaign donors live outside of your focus area, and appear to have no affinity for your mission. You may consider "blessing and releasing" them.
Making the most out of your nonprofit database and the information saved in it by using it to re-engage supporters will put you on the right path to increasing donor engagement and therefore retention.
Tip #3: Follow Up with a Compelling Story
After the conclusion of your crowdfunding campaign, reach out to your donors to express your appreciation and explain how their contributions impacted your mission. 
You don't want to jump right into a second ask. That can cause supporters who just gave to your crowdfunding campaign to feel burdened, overwhelmed, or unappreciated. Instead, capture supporters' attention by sharing more stories from your organization and appealing to their emotions.
For example, you might roll out a short series of emails, each one describing specific impact stories of how your organization made a difference. Donors will react more positively when you describe how volunteers and generous contributions helped build a new house for a family of five in your community, rather than when you simply tell supporters that you build homes for disadvantaged families in general. 
Use your messages to appeal to your audience's emotions such as their empathy or anger at injustices. Then, explain what your organization does to address those issues and how they can stay involved. Also, use this opportunity to highlight the aspects of your organization that set it apart from similar nonprofits and make it worthy of a donor's attention. 
Overall, the key aspect of an improved donor stewardship strategy is fostering relationships through personal and meaningful communications with supporters.
Tip #4: Provide a Variety of Ways to Get Involved
When you're looking to cultivate donors and encourage them to stick around at your nonprofit for the long term, it's important to provide a multitude of opportunities to deepen their involvement in your organization and cultivate a fulfilling experience. 
There are plenty of opportunities that you can leverage to engage your supporters and you can use a variety of channels to do so. Not everyone is comfortable with in-person events just yet, so you can offer your supporters plenty of hybrid or digital opportunities to get involved. For example, you can host: 
Hybrid appreciation events

Video-chat meet-and-greets

Virtual happy hours 

Online classes

Volunteer opportunities

Advocacy campaigns

A live-streamed movie event 
You can use your data to provide opportunities to get involved that are most relevant to specific groups of supporters. For example, if you find that many of your crowdfunding donors share the same profession, such as teaching, you can offer virtual events to specifically appeal to their interests, like a stress-relieving virtual yoga class. 
Prioritizing the donor experience by providing ways to get involved in addition to donating demonstrates that you value your supporters for more than just their wallets, but also their companionship and other intangible contributions. 
Tip #5: Express Gratitude and Provide Frequent Updates
Be sure to express your immense gratitude to donors after the initial crowdfunding campaign and after all subsequent donations by following up with a few appreciation efforts. These include:
Sending thank-you letters.

Be sure to promptly automate the initial letter of appreciation to donors right after they submit their donation. Address supporters by name and discuss donation impact based on the information in your database. 

Requesting feedback.

Use these appreciation letters to not only thank donors for their contributions but also provide opportunities for supporters to give feedback. Involving supporters in this way contributes to the sense that your organization values them for their thoughts and ideas.

Going above and beyond to show your gratitude.

Lumaverse provides a few volunteer appreciation suggestions

that will help you go above and beyond in thanking your supporters—you can distribute free t-shirts, host virtual volunteer appreciation events, create an appreciation video, and make other gestures to show supporters how much they are valued. 

Providing frequent updates.

Donors not only appreciate acknowledgment for their contributions, but they also want to know how they made an impact on your mission in the long term. Be sure to provide frequent and transparent updates on how you're progressing toward each of your organization's goals and how your donors are powering that progress. This donor retention strategy helps donors connect with your mission and increases the likelihood of their continued support. 
Implementing these efforts into your donor engagement strategy will make all the difference to promote donor goodwill and foster a relationship to last a lifetime.
By following these steps, you'll be well on your way to converting those one-time crowdfunders into lifelong donors who understand and support your organization's mission. Be sure to incorporate these donor retention strategies into your organization's strategic plan to solidify these plans as guiding priorities for the future. These strategies will provide concrete blueprints for achieving your organization's goals with the support of a strong base of longtime donors. Good luck!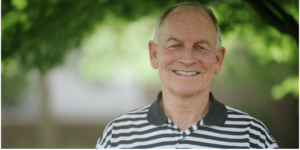 Guest Author: Jay Love
Co-Founderand current Chief Relationship Officer at Bloomerang
He has served this sector for 33 years and is considered the most well-known senior statesman whose advice is sought constantly.
Prior to Bloomerang, he was the CEO and Co-Founder of eTapestry for 11 years, which at the time was the leading SaaS technology company serving the charity sector. Jay and his team grew the company to more than 10,000 nonprofit clients, charting a decade of record growth.
He is a graduate of Butler University with a B.S. in Business Administration. Over the years, he has given more than 2,500 speeches around the world for the charity sector and is often the voice of new technology for fundraisers.
For a free, 30-minute consultation or to learn more about our "Survive and Thrive" professional coaching services, visit us at www.developmentconsultingsolutions.com/coaching or book your fundraising coaching session at http://calendly.com/developmentconsultingsolutions/30min.
Join my new nonprofit community who are surviving and thriving! Click HERE to join my private Facebook group: Nonprofit Survive and Thrive Mastermind and receive support and inspiration to drive your results.