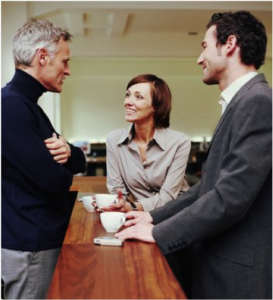 So, I have a niche somewhat of assisting smaller nonprofits with their capital campaigns.
This niche can be challenging because many of these groups have not had an ongoing, comprehensive fund
development program in the past. However, working on these smaller campaigns can also be very satisfying because I can help them use this campaign to begin to develop these efforts.  I take those campaigns that a lot of other consultants won't touch! Many while not having a sustainable donor base to build from, often needs a campaign without doing the preliminary feasibility study.  They need the money, and the campaign must go on.
In the process, there is one thing that I have come to realize.  The capital campaign steering committee is an absolute must.  And, for these smaller groups, it becomes the backbone of their campaign.  In forming this committee correctly, the group has the potential to propel the campaign forward.  Without this group, it may flounder.
And, this group can't include just anyone.  It needs to include folks that can open doors to others have known networks, and believe in the cause.  They hold some of these smaller campaigns in the palm of their hand.
Without having a known, loyal donor base, this committee can introduce the campaign to a wider net of contacts who may be interested in learning more about the case.  They can leverage their networks to build relationships with, the can act as ambassadors for this campaign, and they can help, to ultimately build this organization's future.
Not only that, this group can serve as a "feeder" system to the larger organization's Board of Directors introducing them to a pool of prospective Board members who have deepened their engagement within the group.
Far too many smaller groups gloss over the importance of the who on this committee.  And, by glossing over the who, they are, in essence, glossing over what it takes to be successful in raising money for a capital campaign.  Let's face it, without a loyal donor base, who else and how else are they going to get access to building one.
I purport that a committee group of connected individuals means success.  And, don't settle for anyone who says less because they are just fooling you into believing that you can pull this stuff out of thin air.
Just saying, end of story!