I coach nonprofit fundraisers to either advance in their career or to make a mark in their first 90 days in their new position. As a coach, I sometimes hear and feel the same situation in different ways.
Most are not satisfied with their current role. Some face too many unrealistic expectations in organizations that don't value fundraising expertise. Some like their organization but are unsure about their career trajectory and advancement opportunities within. Still others face the constant battle of personal versus professional considerations, and how well their current job fits.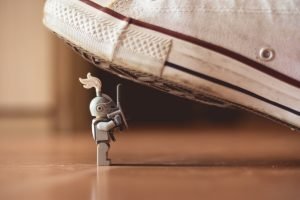 Many fundraising professionals are experiencing what I call the "Fundraising Foxhole Syndrome."
They have a constant barrage of expectations, demands, and needs that they feel are always flying at them. Triage is often a daily function of their job as they put out the next burning bush fire.
After a few months of constant triage, these fundraisers start to plan their exit route by searching the daily job postings and sending out their resumes. I know this because I too have been there. I speak from experience – my own! What often happens next is that they fail to vet the next position, taking it just to leave the last one. They end up going from one "foxhole" to the next or, as we say, "from the frying pan to the fire."
Dear fundraiser, does this sound like you?
Below is a personal exercise that I recommend you take the time to work on in a journal or notebook.
Catalog and identify each aspect of your current job.

Think about how happy each element of your job makes you. Assign each action a Happiness Level, or "H-Level". Use a scale from 1 (lowest) to 10 (highest).

Go through one week and catalog each item based on the H-Level and write it down in a journal, or you can email me for a "Likes and Dislikes" job inventory worksheet.

Then catalog and prioritize your happiness ratings.

Any rankings above seven should tell you something! And, seriously consider any rankings below a five.

Remember that you will have some routine tasks that will follow you from job to job. These may rank very low on your H-Level but, unfortunately, cannot be avoided.

Spend some time analyzing and determining which are the more satisfying areas of your work and which makes you most happy. Observe what you dislike about your job and certain situations, and also note the positives of what you enjoy and what makes you happy.
This exercise will enable you to design your best professional and personal life rather than always going from the "frying pan to the fire" or from "foxhole" to "foxhole." 
By noting and analyzing your day-to-day dislikes and likes, you are creating a roadmap that you can then use to vet new positions. And, this will also help you to design career advancement opportunities that fit in your professional and personal lives.
To learn more about my signature fundraising professionals career coaching programs, visit here.
For a free, 30-minute consultation, or to learn more about our "Survive and Thrive" professional coaching services, visit us here at www.hireacfre.com or book your fundraising coaching session at http://calendly.com/developmentconsultingsolutions/30min.
Join my new nonprofit "tribe" who are surviving and thriving! Click HERE to join my private Facebook group: Nonprofit Survive and Thrive Mastermind and receive support and inspiration to drive your results.
Photo by James Pond on Unsplash