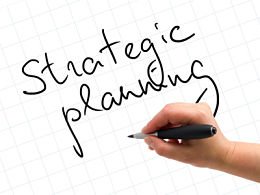 Throughout my career, I have found that it is oftentimes not fund development issues that impact the effectiveness of fundraising, but, larger organizational ones.
After doing many development audits and assessments, I can say that the top items that are lacking within an organization are:  a vision for the future, a case for support, and a long-range plan to get there.
In my opinion, nothing is worst than not having these tools in your fundraising toolbox.  In fact, the "new" donors of today, are different in the sense that they want to know what your vision and plans are and how their gift is going to make a difference today as well as tomorrow.
Strategic planning not only charts that future course, but, it also ensures that your organization will remain relevant to your community and constituents, as well as to your donors.  It is the framework for ALL of your organizational activities and is the backbone of your fund development program.
How can you raise money without knowing who you are, where you are going, and how you will get there?
Without a compass to provide direction, you will be lost in the woods.  And the same holds true for your strategic plan.
It is the vision for the future and the compass to get you there.  I should add that strategic planning is more than that as well.  It is also just as much about process is as it is about product.  In fact, launching a strategic planning process engages all of your key constituents and stakeholders in your organization and creates greater community ownership and donor investment.  Let's face it, our organizations are not "ours" but belong to the community and those we serve.  By engaging them in the process, you ensure that they have a voice.
It is also about organizational commitment, dialogue, change, and learning.  And, we all know that those organizations that are "learning" organizations are by far the most successful.
So, if you are looking for direction for your fundraising efforts, start at the beginning.  Who are you?  Are you relevant?  Where are you going?  And, do you have a plan?  We must remember that the "fundraiser" is limited by how effective an organizations' overall health and well-being is.  Don't set their expectations to high without giving them the proper tools to do the work.
How has your strategic planning efforts enhanced your donor relations in your organization?